It was 39 degrees, cold and rainy, so Hannah and I decided to make lemons out of our lemonade so to speak. (FYI ...Dearest husband you might want to quit reading now, we kind of desicrated the Man Cave with girlie activity.) Here are the ingredients we used: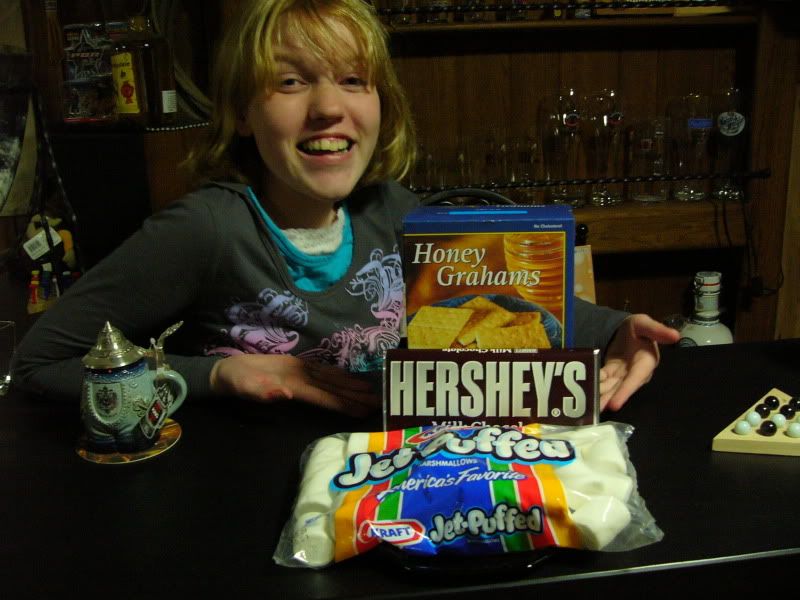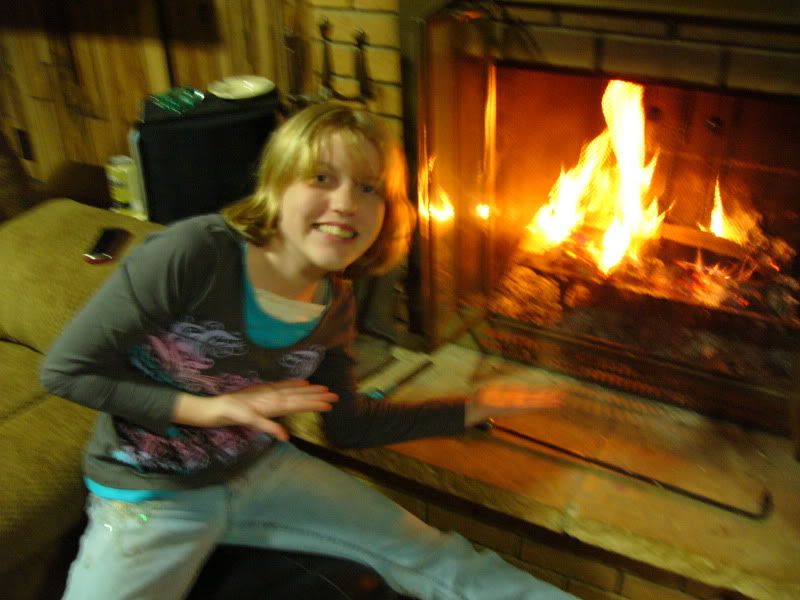 Graham crackers, marshmallows, a Hershey bar and a fire! Yes, we made S'mores in the fire place in June. It was that cold in the basement that we could comfortably have a fire in June. Hannah had mentioned a while back that she'd never had S'mores before, I am a bad mommy, I have never taken her camping yet. This was supposed to be the summer for that before deployment changed our plans. Anyway she's roasted marshmallows at her Dad's place but hadn't made a S'more. The next time I went to the store I bought of the ingredients, but that was in May and it got too warm to have a fire so I just kept them in the back of the pantry to wait for fall. Well it might as well be fall this weekend. Dang the weather stinks. Cold rainy and miserable, they got snow that actually stuck on the ground to the south of us.
Anyway here are the rest of the pictures: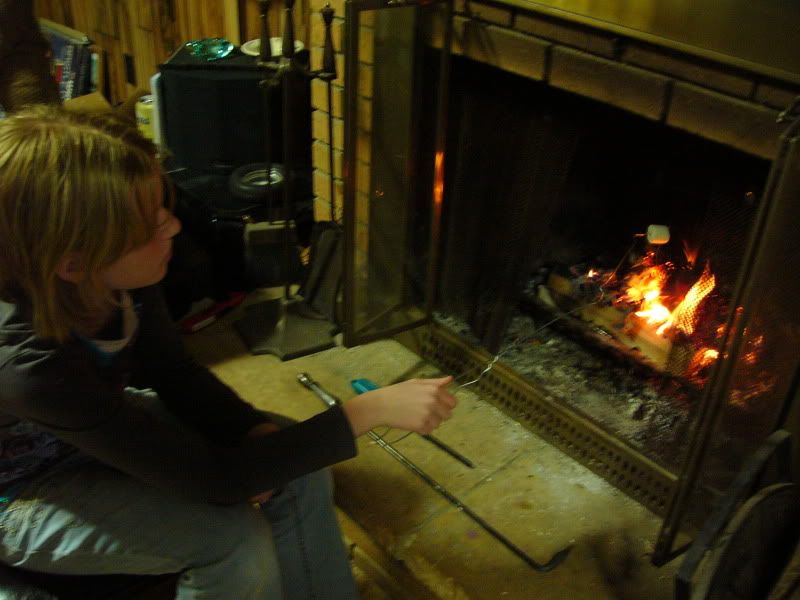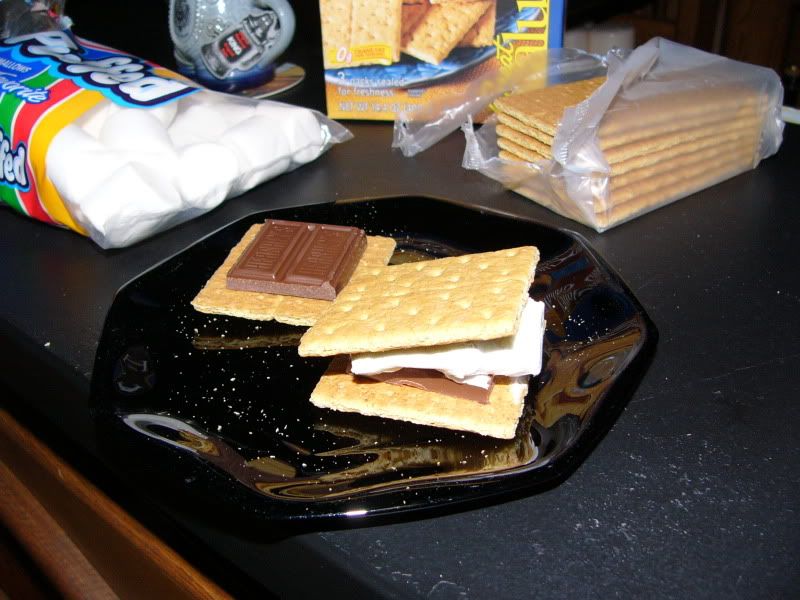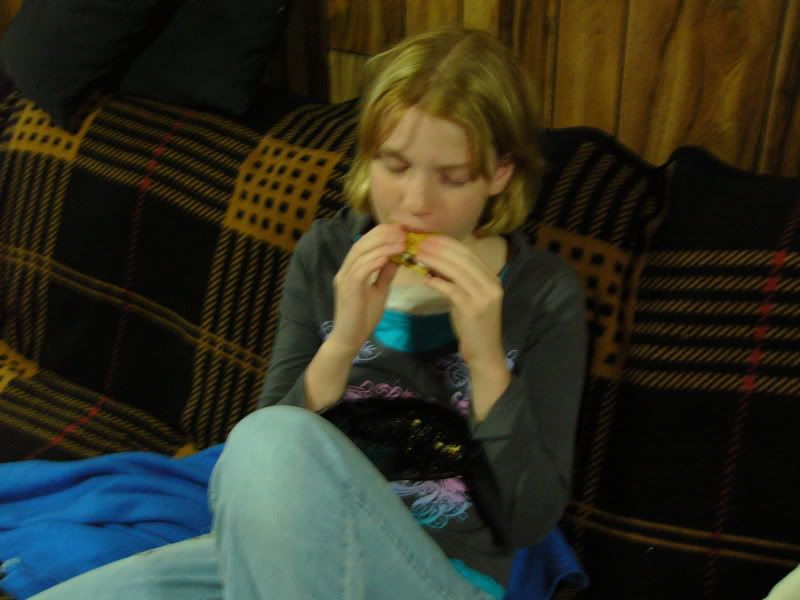 We were impatient and didn't want to wait til the fire got super hot, so our marshmallows weren't quite melty enough---- well other than the one that Hannah caught on fire. I didn't think about how to put those out, can't exactly throw them on the carpet to burn out! But we figured it out, though there is a little bit of goo on the fire place screen LOL. Gee J'ana and Jen thought we might hurt ourselves with the darts and we didn't even get to them we were so busy having fun with the s'mores. We had a great time though and it was a good way to entertain ourselves. Don't worry I worked out a little extra hard on my elliptical first so I have not calorie guilt either. To finish our girlification of the Man Cave we put on Prince Caspian and watched til we got tired and trooped up to bed.
The puppies were feeling especially cuddly last night (we might have given them each a marshmallow ha ha ha) so when we got to bed this is how they ended up. Sooooooo cute!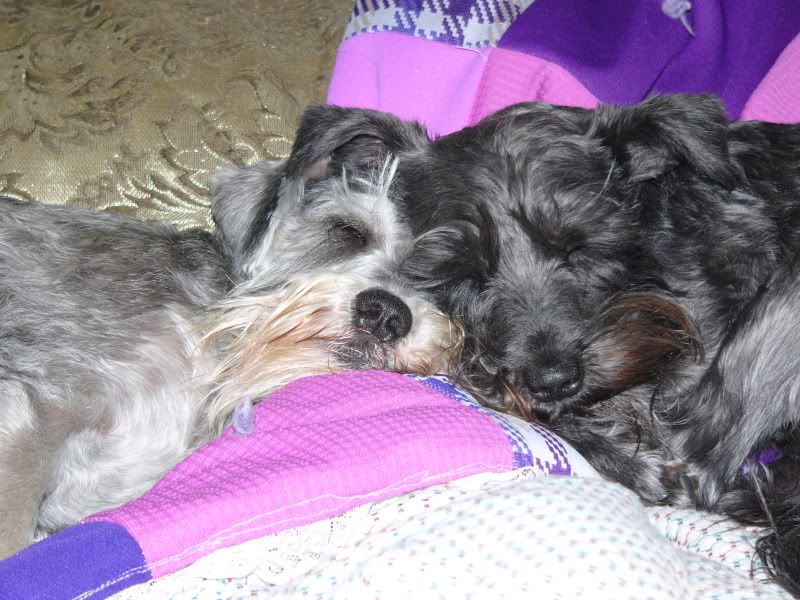 Tags: deployment, puppies, weather